Grosse Pointe Dentist | Ashley Abraham Chacko D.M.D.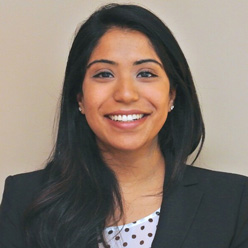 Dr. Ashley Abraham Chacko grew up in the Philadelphia suburbs and attended the University of Delaware for her undergraduate degree in Spanish Language. She completed her DMD at the University of Pennsylvania and her specialty training in pediatric dentistry at the Children's Hospital of Philadelphia/University of Pennsylvania, where she served as chief resident. During her residency, she cared for a wide range of patients including those underserved, with medically complex conditions, and with special healthcare needs, and developed a passion for serving these populations. Dr. Ashley is committed to tailoring dental visits to each child's needs and personality, with the goal of helping each patient develop lifelong positive attitudes toward oral health and coming to the dentist.
When she is not counting teeth, you can find Dr. Ashley exploring her new home with her husband Chris, spending time with family and friends, reading, cooking and baking, and cheering on Philadelphia pro sports teams. She is an active member of the American Academy of Pediatric Dentistry and the American Dental Association.